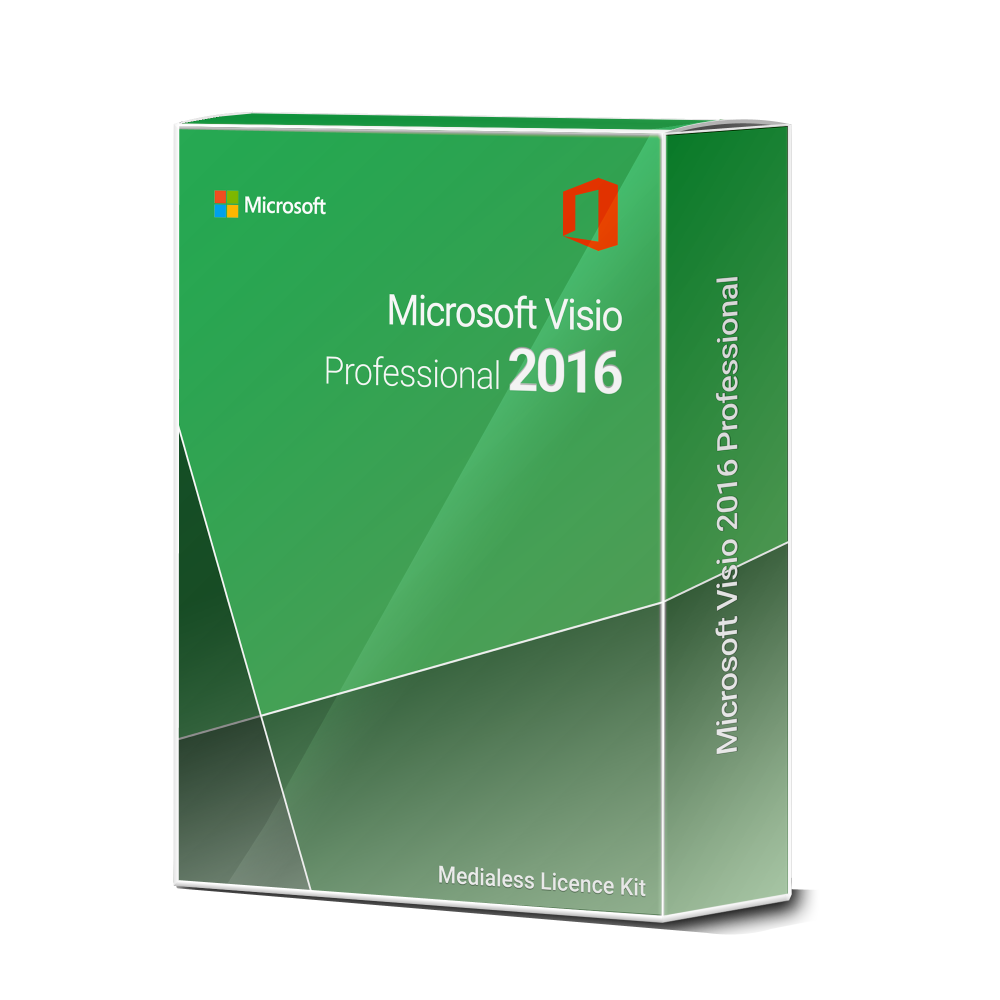 Microsoft Visio 2016 Professional 1PC Full Version Product-Key Code Download Link
---
With the Microsoft Visio 2016 Professional full version, you can gather complex quantities of data in charts and overviews in just a few steps.
This product is compatible with

---
The most important functions of Visio
Simplify the placement of complex information with charts that are linked to data and can be created in just a few clicks. Visio makes charting a breeze. Whether you want to quickly create a flowchart of a process that you have discussed with your colleagues on a whiteboard, map an IT network, create an organization chart, document a business process, or draw a floor plan, Visio helps you: Visualize your work.
Professional charts created quickly
Get started quickly with a select set of pre-built startup charts and context-sensitive tips and tricks.

Take advantage of the updated templates and thousands of shapes that meet industry standards including UML 2.4 (Unified Modeling Language), BPMN 2.0 (Business Process Modeling and Notation), and IEEE (Institute of Electrical and Electronics Engineers).

Use intelligent shapes to increase productivity and use new designs and effects to quickly customize and finish professional-looking diagrams.
Bring diagrams to life through data linking
Connect data with the visualization of an organizational structure, an IT network, a manufacturing plant, or complex business processes to see performance at first glance. Visio shapes can be linked to a variety of data sources such as Microsoft Excel, Microsoft Excel Services, Active Directory, Microsoft SQL Server, Microsoft SQL Azure and Microsoft SharePoint Lists, and Business Connectivity Services.

Use data graphics such as symbols, colors, or text to simplify and enhance the visualization of complex information.

Take advantage of the new one-step connectivity with Excel spreadsheets and swap data graphics to your liking with one click.
Visually communicate a clear and up-to-date version of the truth
Communicate and share flowcharts, timelines, process flows, organizational structures, IT architecture, or floor plans with the entire enterprise through a Visio Services browser in Office 365 or SharePoint. When the underlying data is updated, the charts in the browser are also updated.
At the same time, collaborate on the same diagram and view the comments of all editors - Visio as well as Visio Services.
Back up diagrams with Information Rights Management (IRM), Data Loss Protection (DLP), and Multilevel Authentication.
| | |
| --- | --- |
| License type: | Volume License - License Key WITHOUT Data carrier / PKC |
| Operating system: | 32 & 64-bit |
| Number of licences: | 1 PC *, unlimited duration |
| License Condition: | Unused product key code from volume contract takeover |
| Customer group: | commercial & private |
| Language: | English (multilingual) |
| disk: | none included. Link to download the software as well as license keys are provided - ESD |
| System requirements: | Processor: x86 or x64-bit 500MHz or faster processor, OS: Windows 10, Windows 8, Windows 7, Windows Server 2008 (R2) RAM: 1GB or above, Hard Disk Drive: 2.5GB, Display: DirectX 9.0c compatible graphics card and at least 64MB |
You receive your personal product key (= free activation from a volume licence) together with information regarding the free download of the official installation file, as well as instructions regarding installation,
by email.

No physical product, that is, no data carrier (CD/DVD) and no Product Key Card (PKC) is provided!