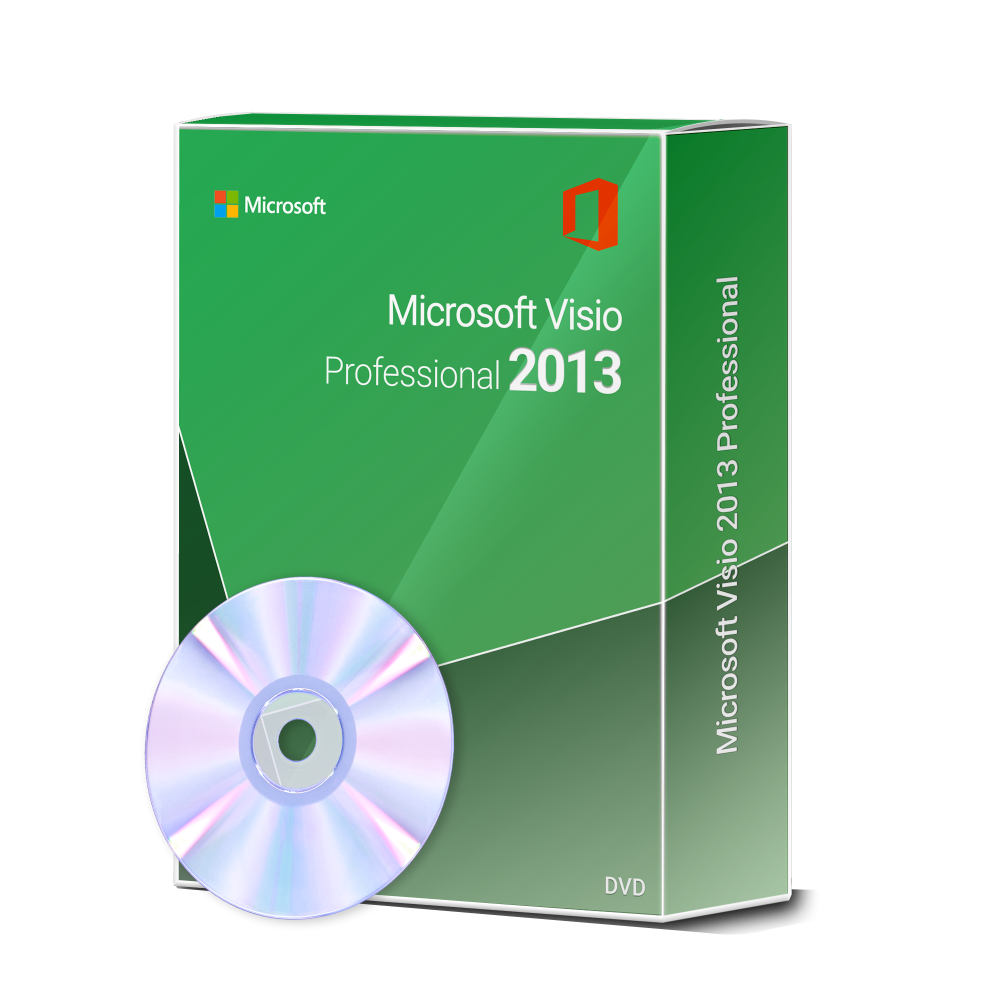 Microsoft Visio 2013 Professional and DVD 1 User / 2 Activations
---
In a nutshell: Microsoft MS Visio 2013 Professional Full Version brings together complex amounts of data in charts and summaries in just a few steps.
This product is compatible with

---
Numerous features and pre-installed templates
The MS Microsoft Visio 2013 Professional full version offers you 60 built-in templates in various shapes and colors. The search function shows you directly desired templates. A new page view also shows you how your charts look printed. Shortcuts and clear toolbars give you direct access to favorite tools. You can easily import data from Word or Excel files and use it to create your diagrams.
Teamwork: MS Microsoft Visio 2013 Professional full version
In the Microsoft Visio 2013 Professional Full Version, you can let different people work on charts using their own devices. The practical comment function lets you note helpful suggestions for improvement. This facilitates the feedback and the design of an overview can be optimized together.
Full version of the latest visualization program from Microsoft with unlimited functionality
Volume license: License key with link for download
License for unlimited use on 1 PC
Operating system: Windows 7, 8, Server 2008 R2 (32- & 64-bit)
Customer group: commercial
Language: English (multilingual)
Via downloadlink to the full version
In an e-mail you will receive the product key from a volume license as well as further information for download. You will not receive a data carrier, because the software will download for free and install it on a device of your choice. On this device, you can use MS Microsoft Visio 2013 Professional full version indefinitely. Proof of ownership for your license key will be sent by registered mail.
That should be your system
For the Microsoft Visio 2013 Professional full version, your PC should have Windows 7 or Windows Server 2008 R2 operating systems. We recommend a 1GHz or faster processor, 1GB (32-bit) or 2GB (64-bit) RAM, and a 2GB hard drive space.
| | |
| --- | --- |
| License type: | Volume license, license key incl. DVD - plus link for free download of the software |
| Operating system: | 32 & 64-bit |
| Number of licences: | 1 PC, unlimited duration |
| Customer group: | commercial & private |
| Language: | English (multilingual) |
| disk: | none included, download link will be provided |
| System requirements: | Processor: 1GHz or faster, RAM: 1GB (32-bit) 2GB (64-bit) or more, Operating System: Windows 10, Windows 8, Windows 7, Windows Server 2008 R2 Hard Disk Space: 2 GB |
The Product Key Code will be sent to you by e-mail in advance, including download links and installation information.
Afterwards you will receive a backup / installation DVD, which you will receive directly from Microsoft about 7-10 working days after receipt of the order.