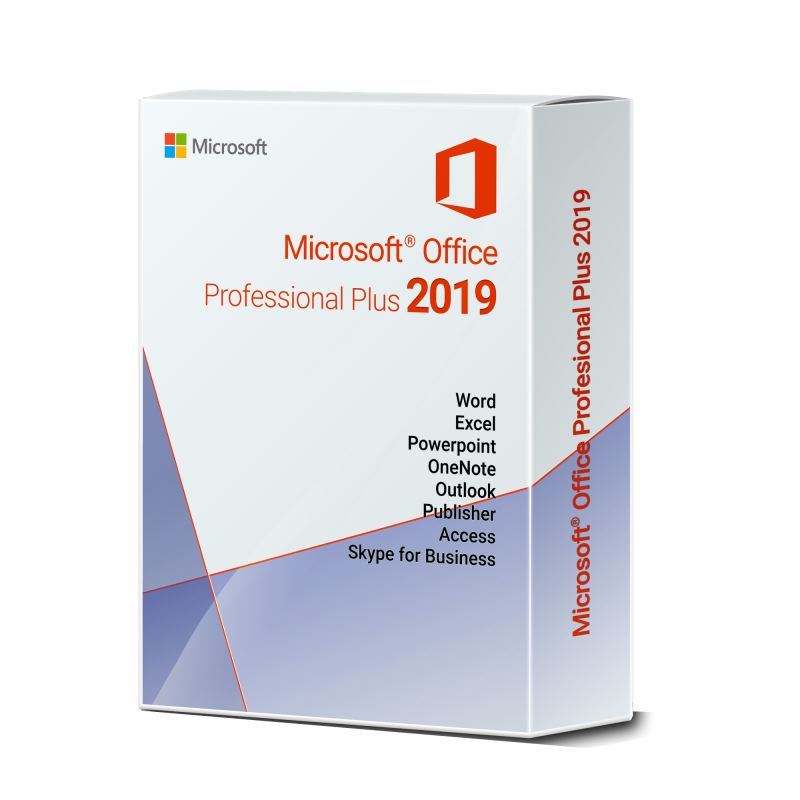 Microsoft Office 2019 Professional Plus 3PC Download Licence
---
With Microsoft Office 2019 PROFESSIONAL PLUS you get a complete package for professional work on your computer
---
Look forward to the latest technology
Especially in office life, a professional office package is essential. E-mail traffic needs to be managed optimally, an efficient publishing program is important, and error-free data processing must be guaranteed. All this combines Microsoft Office 2019 PROFESSIONAL PLUS. But this program can do much more. Microsoft Office 2019 PROFESSIONAL PLUS promises document management, word processing or even chatting with employees.
This is new in Office 2019:
Fix accessibility issues with one click
The Accessibility Review is better than ever and offers updated support for international standards as well as practical suggestions for designing accessible documents.




Helpful sounds improve accessibility
Enable audio hints to guide you through your work. Audio hints are among the sound effects that you can find in Options> Ease of Use.




Freehand is the hit!
Convert ink to shapes, write complex mathematical formulas, mark text, and much more. Use a finger or stylus. Even with a mouse it works!



Cancel the language barrier
Translate words, phrases, and other tagged sections of text into another language using Microsoft Translator.



Improve the visual impact
Make your documents, spreadsheets, and presentations more visually rich by including Scalable Vector Graphics (SVG) with applied filters.



Improved readability
Give your eyes a break. Adjust text spacing, column width and page color. Or let Word read your document out loud and highlight the currently read text.

Protection against data loss in Excel
Data Loss Protection (DLP) is a high-quality enterprise feature that is highly valued in Outlook. We're launching DLP in Excel to allow real-time content browsing based on a set of predefined policies for the most sensitive types of data (such as credit card numbers, social security numbers, and US account numbers).

New Excel functions
TEXT CHAINS, TEXT CHAIN, WHEN and more. Let Excel work for you.

Cards charts
You can create a map chart to compare values and display categories across geographic regions. Use it if your data includes geographic regions, such as: Eg countries / regions, federal states, administrative districts or postal codes.

Inbox with relevance
Use the Inbox with relevance to focus on the email that matters most to you. This feature divides your Inbox into two tabs - Relevant and Other.

Easier cropping
The background of an image can now be easily removed (removed) and edited. PowerPoint automatically detects the general background area so that you no longer need to draw a rectangle around the foreground of the image. The pencil, which marks areas for retention or removal, now allows you to draw free-form lines and is no longer limited to straight lines.

Highlighter
Due to popular demand PowerPoint 2019 now has a highlighter similar to the one in Word! Select different highlight colors to highlight specific parts of the text in your presentations.

Visualize your data with new charts
Choose from 11 new charts, including line, column, and bar charts. Customize fields with chart dimensions and instantly preview your changes.

New property "Label Name" for controls
We've added a new property named "label name" to controls so you can associate a label control with a control. Previously, you had to "cut" a label control and paste it into another control to map it. The new Label Name property lets you easily enter the name of a label control to associate with it.

Support of "big number" (bigint)
The Large Number data type stores a non-monetary numeric value and is compatible with the SQL_BIGINT data type in ODBC. With this data type, large numbers can be calculated efficiently.

| | |
| --- | --- |
| License type: | Volume License - License Key WITHOUT Data Carrier / Product Key Card (PKC) |
| Operating system: | 32 & 64-bit |
| Number of licences: | 3 PC *, unlimited duration |
| License Condition: | Unused product key code from volume contract takeover |
| Customer group: | commercial (private according to Lizenzvereinbarug MS possible) |
| Language: | English (multilingual) |
| disk: | none included. Link to download the software and license keys are provided. |
| System requirements: | Processor: 1.6 GHz or faster x86 or x64-bit processor with SSE2 instruction set extension, operating system: Windows 10, Windows Server 2019, RAM: 2 GB (32-bit) or 4 GB (64-bit), hard disk space: 4 GB, Display: Using graphics hardware acceleration requires a DirectX10-compatible graphics card and a resolution of 1024 x 576 pixels. |
You receive your personal product key (= free activation from a volume licence) together with information regarding the free download of the official installation file, as well as instructions regarding installation,
by email.

No physical product, that is, no data carrier (CD/DVD) and no Product Key Card (PKC) is provided!