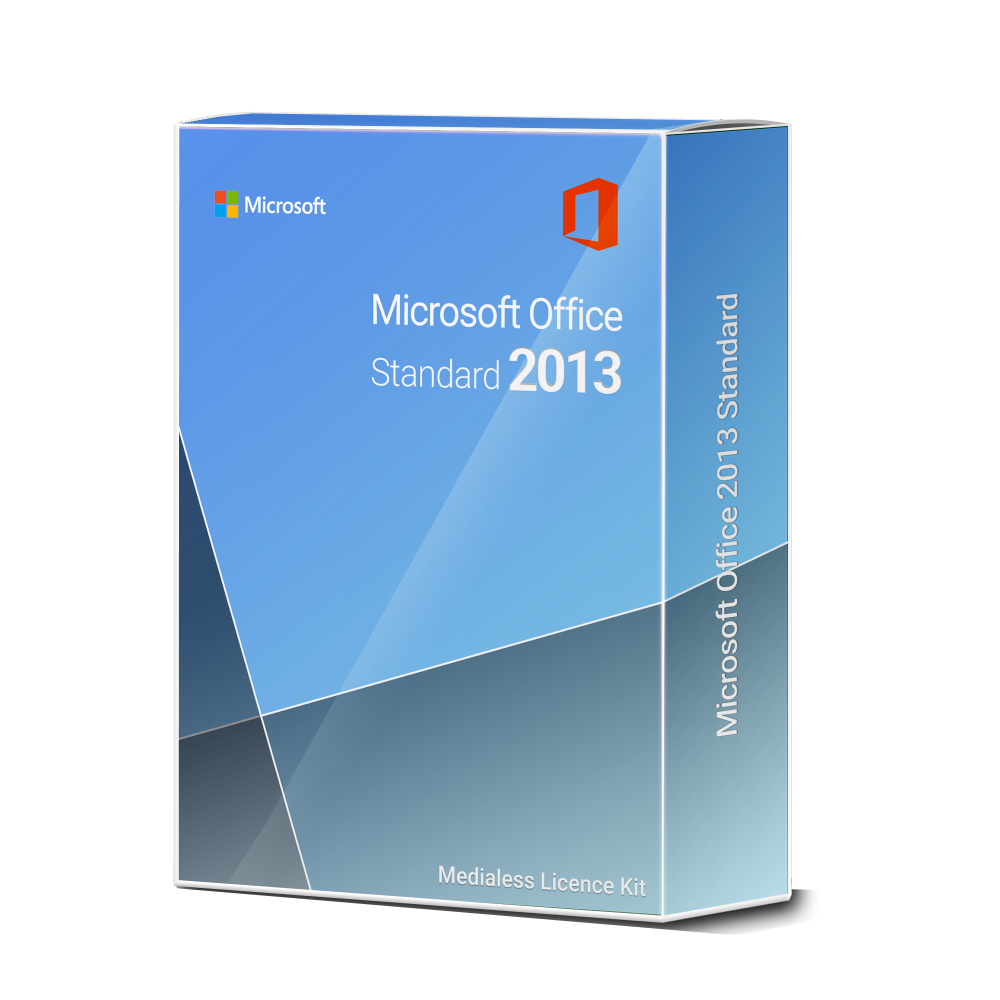 Microsoft Office 2013 Standard 1PC
---
The complete office suite Microsoft Office 2013 offers you a multitude of applications that make everyday office life easier
This product is compatible with

---
Complete package for office and home
With Microsoft Office 2013 STANDARD, you can simplify your office work and save yourself time and money.
The complete package offers proven programs that have been optimized to make your job easier and intuitive to use. Microsoft Office 2013 STANDARD is ideal for commercial use. Use the software for your work and convince yourself of the user-optimized interface.
Microsoft Office 2013 STANDARD at a glance:
The volume license is available as a download link. The corresponding product key with proof of ownership will be sent to you, the additional information will be sent to you by e-mail. So you can use your software soon. The license can be used for a PC without limit. Microsoft Office 2013 STANDARD contains:
Word 2013
Excel 2013
PowerPoint 2013
OneNote 2013
Outlook 2013
Publisher 2013
Proven programs with user optimization
The new Microsoft Office 2013 STANDARD not only has a high-quality, intuitive new interface, but also many improvements that make it easier for you to work. In addition to the proven and optimized programs such as Word 2013, Ecxel 2013, PowerPoint 2013 and Outlook 2013, there are other programs available. With OneNote 2013, the digital notebook, you bring order to paper chaos and have sorted notes clearly. The design of flyers is also child's play with Publisher 2013.
Improvements to your time savings
Microsoft Office 2013 STANDARD is designed to make your job easier. It can be controlled intuitively so that even newcomers to the office can use the software right away. The complete package is optimized for different hardware, so you can use it for tablets and ultrabooks as well as HD screens. Convince yourself of the Microsoft Office 2013 STANDARD and get work done.
| | |
| --- | --- |
| License type: | Volume License, License Key WITHOUT Disk / PKC Card |
| Operating system: | 32 & 64-bit |
| Number of licences: | 1 PC * unlimited duration |
| License Condition: | Unused product key code from volume contract takeover |
| Customer group: | commercial customers and authorities and public institutions |
| Language: | English (multilingual) |
| disk: | none included. Link to download the software as well as license keys are provided - ESD |
| System requirements: | Processor: 1 GHz (GHz) x86 or x64-bit processor or faster and SSE2 instruction set extension, operating system: Windows 10, Windows 8, Windows 7, Windows Server 2008 R2 or Windows Server 2012, RAM: 1 GB (32 GB) Hard Disk Space: 3 GB, Display: Graphics Graphics Acceleration requires a DirectX10-compatible graphics card and a resolution of 1024 x 576 pixels. |
You receive your personal product key (= free activation from a volume licence) together with information regarding the free download of the official installation file, as well as instructions regarding installation,
by email.

No physical product, that is, no data carrier (CD/DVD) and no Product Key Card (PKC) is provided!