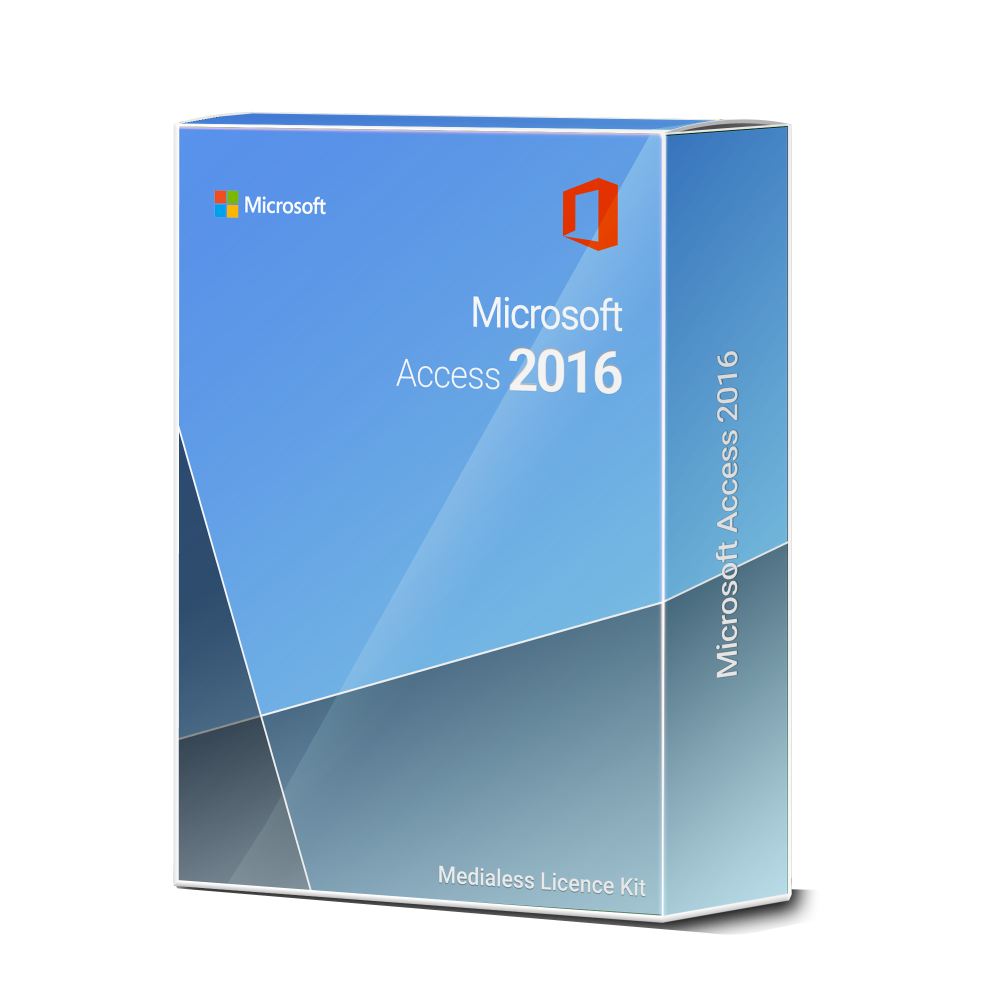 Microsoft Access 2016 Download 1PC
---
With Access 2016, you can easily create database applications.
This product is compatible with

---
Perfect your data
Easily create your own database applications in formats that best meet the needs of your business.
Create custom apps in a short time without programming *
More than desktop databases
Access now offers far more options than just creating desktop databases. It gives you an easy-to-use tool for building browser-based database applications in a short time, helping you to run your business. Your data is automatically stored in an SQL database, giving you greater security than ever before. Plus, you can easily share your applications with colleagues.

App templates
Take the opportunity to get started with the simple development of a custom app, or be inspired by a collection of new and professionally designed app templates.

TableLooks
You already know what information you want to track with your custom app? Just enter it in the Add Tables text box and select from the appropriate tables to quickly define fields, relationships and rules for these tables. How to create a working app in minutes.
Create apps that are always easy to use and grow with your business *
The "App Experience"
With apps that automatically get a responsive, easy-to-use interface and consistent user experience, you no longer have to worry about users losing track of the data. Access provides this code for the professional look and feel.


Related elements control
Users can capture more relevant information in the database at a glance without leaving the current screen. They always have the right context when entering or checking data.

AutoComplete control
For users of the app, data entry is now much easier and less error-prone, thanks to drop-down lists and suggestions that pop up when they start typing. Searches allow relationships to be made between records in different tables.
* Access Services required, sold separately as part of certain Office 365, SharePoint Online, and SharePoint Server 2013 offerings.
| | |
| --- | --- |
| License type: | new license - license key WITHOUT data medium and NO product key card |
| Operating system: | 32 & 64-bit |
| Number of licences: | 1 PC *, unlimited duration |
| License Condition: | Product-Key code from full license (FPP) for single telephonic or online activation |
| Customer group: | private & commercial |
| Language: | English (multilingual) |
| disk: | none included. Link to download the software and license key will be provided. |
| System requirements: | Processor: 1 GHz (GHz) x86 or x64-bit processor or faster and SSE2 instruction set extension, operating system: Windows 10, Windows 8, Windows 7, Windows Server 2008 R2 or Windows Server 2012, RAM: 1 GB (32 GB) Hard Disk Space: 3 GB, Display: Graphics Graphics Acceleration requires a DirectX10-compatible graphics card and a resolution of 1024 x 576 pixels. |
You receive your personal product key (= free activation from a volume licence) together with information regarding the free download of the official installation file, as well as instructions regarding installation,
by email.

No physical product, that is, no data carrier (CD/DVD) and no Product Key Card (PKC) is provided!